2
min
Domotz CloudRadial Integration

Domotz network monitoring and management software includes integration with CloudRadial IT Clients portal.
This integration allows you to show the devices you monitor with Domotz in the CloudRadial customer facing portal. This is beneficial because it instantly shows your customers all the technology you are managing on a network.
The CloudRadial integration uses the Domotz API to provide you with a view of your client's devices in your CloudRadial account. Domotz can now pass network information directly into a client's infrastructure tab in CloudRadial. This data is available under the Network tab under Infrastructure.
Learn more about the Domotz integration with CloudRadial IT Client Portal.
How to set-up the Domotz CloudRadial Integration
In Domotz
In the Domotz portal, click on the Settings tab.
On the Settings page, click on the API Keys tab.
Create a new API Key.
Record the API Key and Endpoint URL.

In CloudRadial
Go to Partner Settings and click on the Integrations option on the right side.
Select the Domotz option on the right side.
Click on the "Enable Domotz" checkbox and enter the API Key and Endpoint URL that you obtained above.
Lastly, hit "Submit" to save the changes.
In CloudRadial (Client Settings)
To link a client to their Domotz agent, go to the Clients tab under Partner.
Next, select the client and choose the Edit option (top right of the page).
Click on the "Add-ons" tab at the top.
Press the Lookup button Domotz agent Id. A lookup dialog appears. Enter blank or the first characters of the agent name. Select the agent from the list. Their Id populates in the text box.
Save the settings.
The Network tab should now appear under the client's Infrastructure settings. If the client is already open in a browser (or it's your account), you will need to refresh the page to see the new tab.
Usage
After setup, allow a minute for Domotz information and data to pull into your CloudRadial Account. Then, network reports are cached for one hour to speed up additional queries.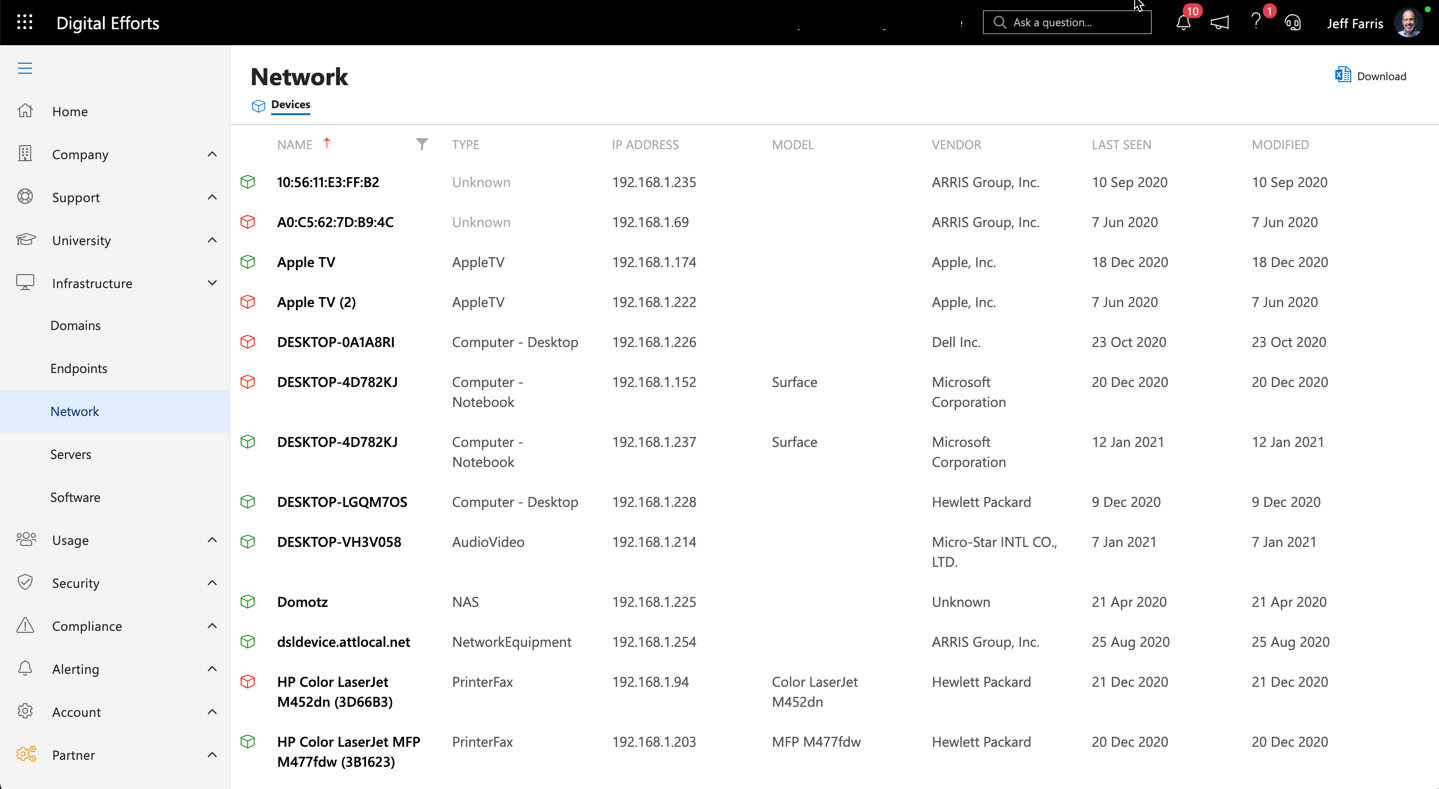 Looking for more Integrations with Domotz? Check out the articles on PSA & Ticketing Systems for tools like Zendesk, Syncro, Freshservice, Autotask, and more. Or view or a full list of Integrations on Domotz.com.