2
min
With Shared Alerts you can define events for which your entire team would like to receive notifications either through emails or webhooks. You can also connect your preferred ticketing system.
You can define alert profiles which can be applied either to devices or agents indifferently by any member of your team so that they are shared across the whole team.
For example, this functionality can be used if you are planning to feed alerts into a ticketing system or if you want to send email alerts to an email address that is not configured as an account within Domotz Pro.
You can access the Shared Alerts configuration from the side menu inside the Domotz WebApp.
How to Create a Shared Alert
The first step is to create at least one Contact Channel on the right side.
You can specify different channels that will receive the events specified in the Shared Alert.
An Email Address endpoint is simply an email address (whether a Domotz account or not).
A Webhook address endpoint is a third party host that will receive a message once the events are triggered. You will find a detailed list with all the possible Webhook events on the Domotz Portal>Developers>Domotz Webhook, in the table under Webhook Events.
A PSA or Ticketing System give you the ability to connect to your favourite system and receive there the alerts, Currently supported:


Autotask PSA. For more details see here.
ConnectWise Manage. For more details a see here.
Solutions360 / Q360. For more details see here.
FreshDesk. For more details see here.
Syncro. For more details see here.
RepairShopr. For more details see here.
ServiceNow. For more details see here.
SquadCast.
Then Create a new Shared Alert:
Any Shared Alert can be active (by default) or inactive. This can be changed with the status toggle.
Give the Shared Alert a custom Name and pick a color (this will be of help inside the App during the selection).
Select all the device events you need to monitor:
Device Goes Up
Device Goes Down
Hearbeat Lost
IP Change
Configuration Change
Configuration Misalignment
Retrieve any SNMP Event
Feature Discovery
Retrieve any TCP Event
Retrieve any RTD Event
Select previously created Contact Channels and Add Events: You can add one or more events that will trigger alerts to the specified channels. You can choose between devices events or network events.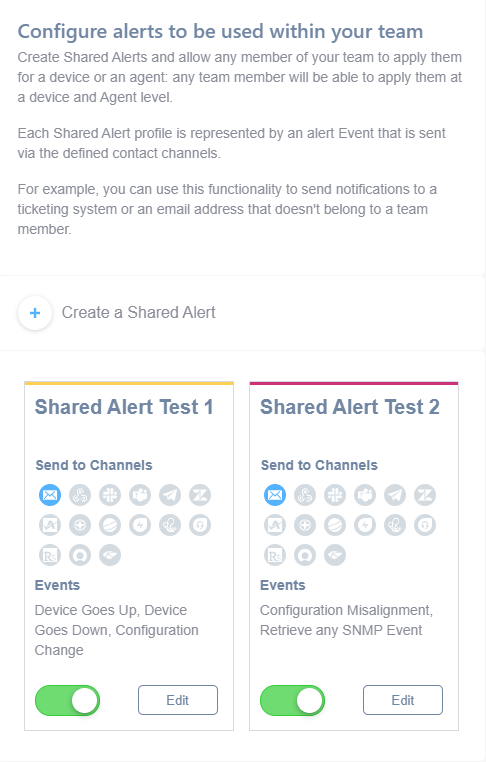 Once the Shared Alert is created you'll be able to disable it and modify it.
After creating the Shared Alert, you need to apply the created Alert to a specific device or at the Agent level.
How to Apply and Remove Shared Alerts
Shared Alerts can be applied as an alternative to Personal Alerts, in all the sections where Alerts can be configured.
Shared Alerts can be removed from the Shared Alerts Configuration window by choosing Delete.
For configuring Network Alerts, see here.
For configuring Device Alerts, see here.